For ages I said that I wouldn't go to this, but let's face it, everyone knew I'd succumb in the end, and I did. And I'm so glad.
By that point, Aoife (who you'll remember from my BBC Three Boosh Documentary Adventure) had arranged to stay with another Boosh forummer Becky, and bless her she let me stay too. I realised what a different world it is living in London when we managed to blag tickets for an Ed Byrne gig which just happened to be taking place in a pub on the way from Kentish Town tube to Becky's flat. That just doesn't happen in Doncaster.
So after dumping our stuff, we basically turned around and went back out again, and it has to be said that I enjoyed Ed Byrne's set a hell of a lot more than when I last saw him at the Just The Tonic Christmas Show. (But then he was usurped as headline act by Mr Fielding, so maybe he had a good reason to be grumpy.) He was trying out material for Edinburgh - the most memorable bit being a section on how the video for Thriller is a Horror, not a thriller - and seemed really happy with how it went. As were we, but it's hard to be disappointed when you only found out you were going to see such a top class comedian about an hour beforehand.
The fourth member of our little clan, Nic, arrived during our post-gig Chinese, and she drive us to the Hop Farm in the morning.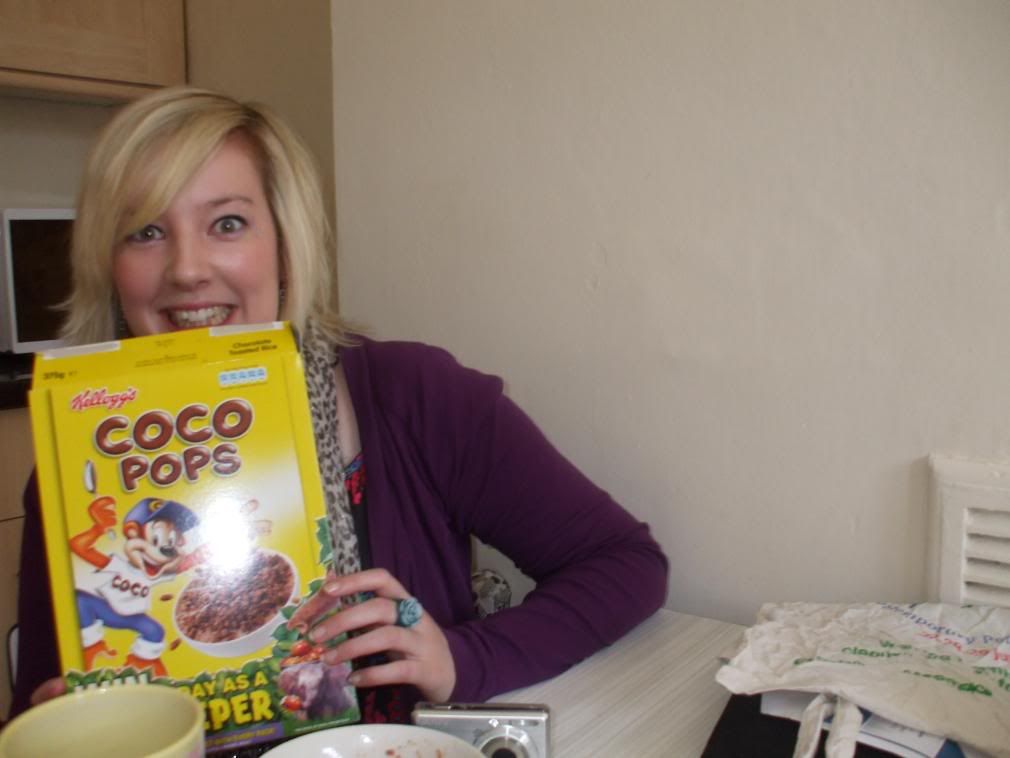 Aoife and brekkie!
Becky carefully applying Nic's fake eyelashes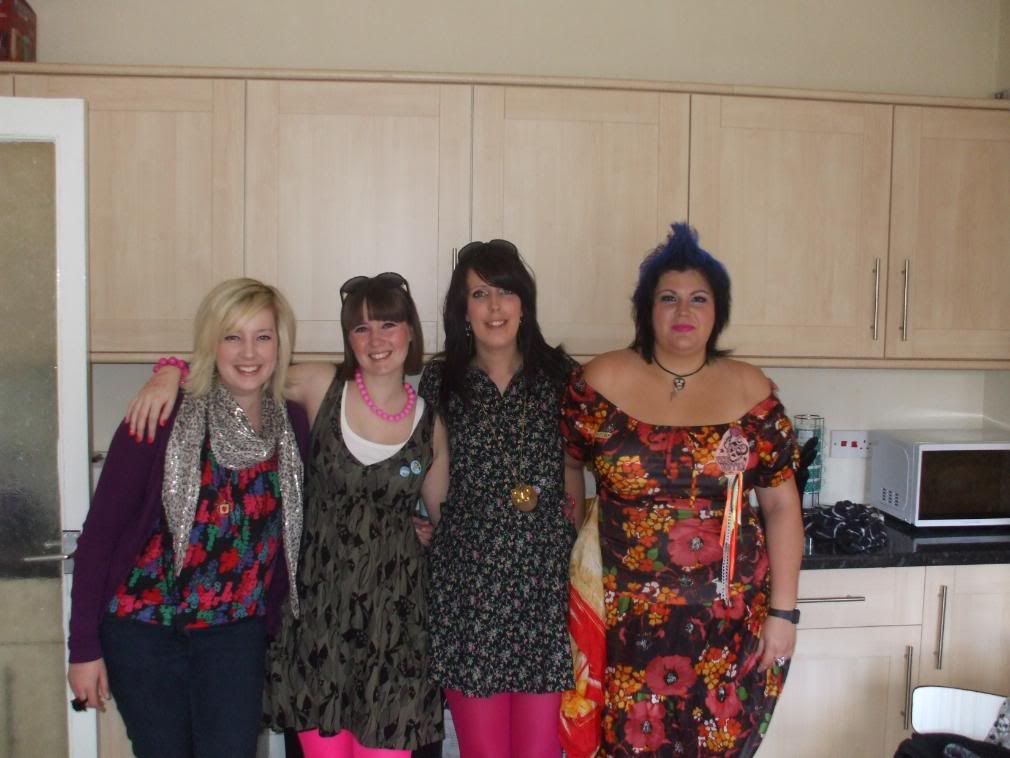 The little clan
If any of you were in the area, you'll know that it absolutely threw it down up until about 11am, but when it cleared up it was actually perfect festival weather from there on in - sunny, but a nice breeze too. We were pretty darn lucky in that respect. Ok, so my lovely wellies weren't exactly necessary but I kinda liked them.
When we arrived, it was clear that this was going to be a really relaxed affair - there were families with (some very) young children, older couples, picnics, loads of places to eat, loads of space, and the all important bouncy castle.
It wasn't at all busy, and maybe the organisers would have been disappointed that it wasn't a sell-out, but for those of us who were there it was just right. First up were Robots In Disguise - the Boosh's Electro/Goth Girl - who I'll happily admit I'd have never given a second listen if it weren't for the Boosh connection. They write amazingly catchy - but pretty intelligent - songs which are among the most dance-along-able to in my entire record collection. Maybe they're more suited to a sweaty club than a sunny field, but the Boosh connection
did
mean that they did a great job of uniting the crowd early on in the day.
The big forum meet-up came next, and despite our worries that we'd never be able to get everyone together in the same place at the same time, it happened incredibly easily. There were photos, hugs and squees a-plenty, as you can imagine, and it really was a joy to spend the day with such a lovely laid-back and friendly group of people.
The whole group (think I took this one...)
Emmy-lou, Sam and me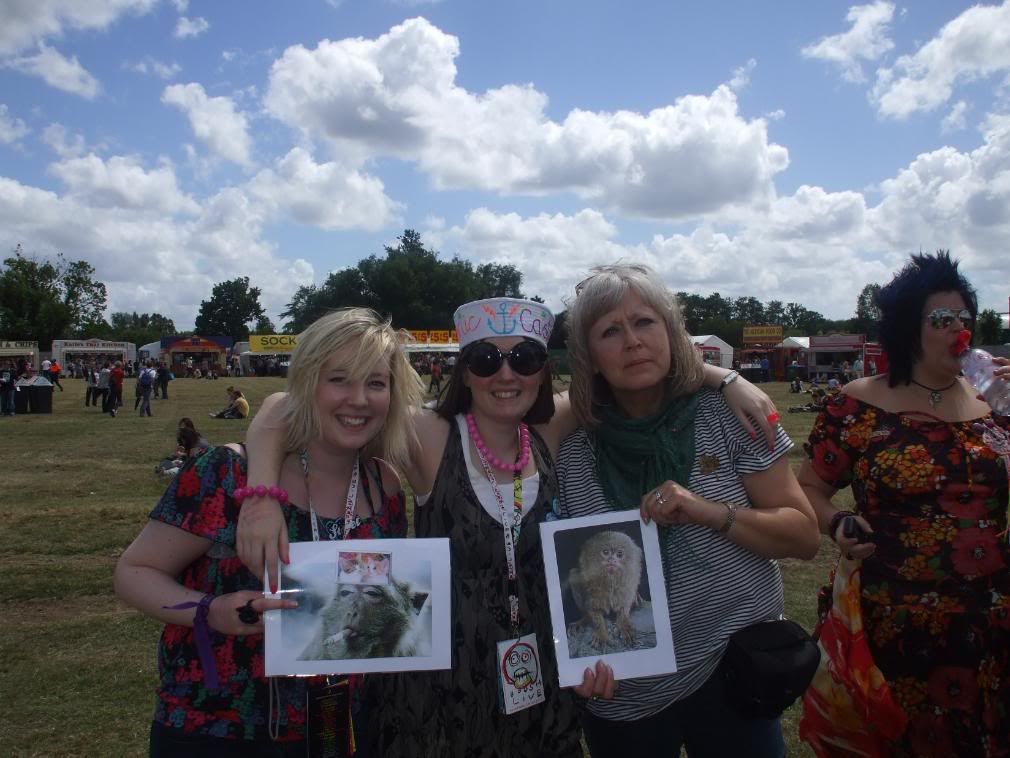 Aoife, me and Jake, and the avatars of a couple of lovely forummers who sadly couldn't make it!
The fuzzy/bluesy/really rather good White Denim did their scuzzy thing on stage as we chatted and mingled, and after a performance from The Kills which I'm afraid completely passed me by (and a rather nice burger) Aoife and I headed for the comedy tent in the hope of seeing David O'Doherty, Matt Berry and Mark Watson who were scheduled one after the other. The comedy tent was a bit of a disappointment though, as the organisers seemed to miss the fact that a crowd united by a love of the Mighty Boosh would probably be pretty hot on their comedy. It was a tiny little marquee, and we only managed to squeeze in to see DO'D finishing up, really, but it was great to see Matt Berry do a couple of songs from Garth Marenghi's Darkplace and Snuff Box. Mark Watson must have been bumped up the bill as he appeared hours later, I think.
The comedy tent
In the early evening, Aoife, myself and Jake wandered up to the front to watch The Charlatans (and hang about near the entrance to backstage where we met Berry, and saw Julia Davis and, randomly, Alan Davies). They were my music highlight of the day by far, but then I've always been a fan. Having an indie older brother who was in his teens in the 90s means that songs like The Only One I Know are pretty much emblazoned on my brain, but then they *are* good songs. I'll do a post with just videos soon - the first of which will be a clip of that very song - but for now, here's a piccie of Tim Burgess et al.
Next up was the unfathomable (and for a lot of the set very nearly naked) Har Mar Superstar, and after a brief DJ set from Peaches (the American singer, not Bob's daughter), it was time for the main event. The Mighty Boosh: The Band.
And for that, as my fingers and wrists are hurting something rotten, I shall cut and paste from my "proper" review.... sorry :P
The original idea was, I think, for the band to be made up exclusively of members of the Boosh family (Bollo on drums, etc), but Julian – the true music aficionado of the bunch – wanted, and I quote "the backbone to be shit hot", and so professional musicians were brought in on bass and drums. Apart from Fielding (Naboo) though, the others still played their part. Noel/Vince was on lead vocals (who else?!), Julian/Howard displayed impressive skills on lead guitar, Dave Brown/Bollo/Joey Moose added percussion to the mix, and Rich Fulcher bashed on the keyboard with characteristic gusto. And it worked. They functioned as a band fantastically well because the set up is already there, ingrained in Boosh mythology. Vince was born to be the strutting, posturing, Jagger-esque front man and Howard was born to be the jazz-inspired muso at the side, stroking his guitar. And so were their real-life alter-egos, of course.
But this was more than a set from a band; it was, and had to be, a proper show. The Moon introduced the Boosh (and later appeared as Jay-Z; "I got 99 problems, four of 'em are catering") and there was plenty of trademark banter between Julian and Noel. They were hugely generous to their audience too, as they threw in everything from their most famous crimp about soup (it's an odd world, that of the Boosh, but go with it) to a song only heard by their most ardent fans in a late-night radio interview. Vince appeared on stage on a huge pirate ship, while Howard had a little blow up dinghy, but he got his moment later on when performing New Sound and Isolation on his own - and blowing the audience away with a killer guitar solo.
There were costume-changes a-plenty, a dance-off between Har Mar Superstar and Bob Fossil (Rich Fulcher), sweary punk tracks, a nu-rave song about eels and thrash metal performed by grannies. Would this have made any sense whatsoever to someone who had never seen The Mighty Boosh? Of course not, but then you don't usually judge a gig on what it offers people who aren't already fans. And even if there were some Boosh virgins in the audience, I'd hazard a guess that they were swept away by the spectacle and joy of it all anyway.